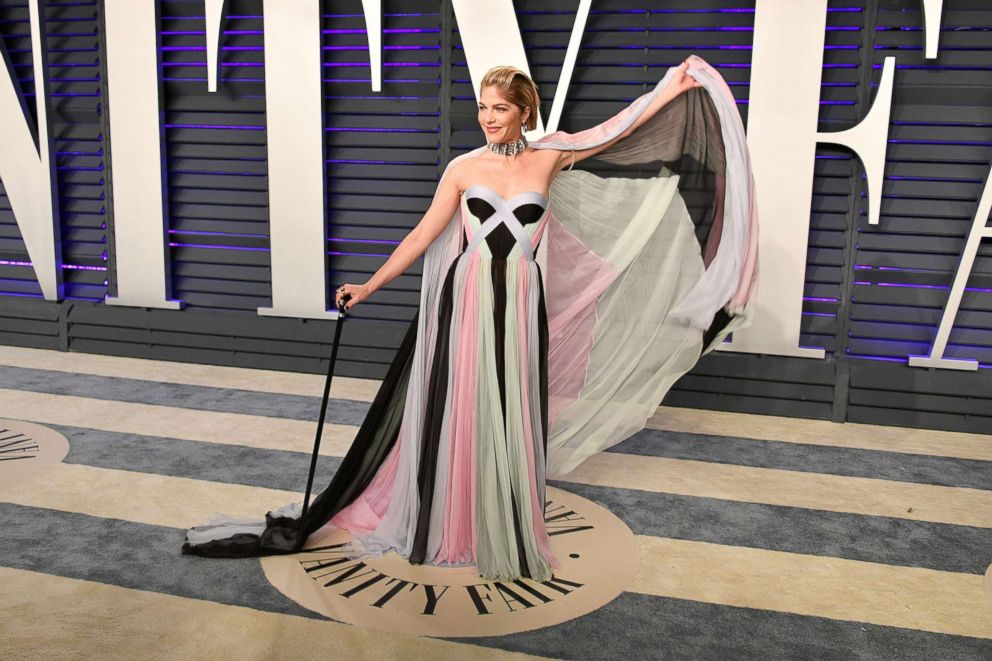 Actress Selma Blair walked the red carpet of the Vanity Fair Oscar party with a cane Sunday night, just five months after publicly revealing her multiple sclerosis diagnosis.
Blair, 46, stood out among Hollywood's biggest names at the annual Oscar night event wearing a multi-colored chiffon gown and cape by Ralph & Russo.
The "Cruel Intentions" star made an even more powerful impression though with her cane that was customized with her monogram and a pink diamond.
Blair wrote in an Instagram caption that she "wanted a special cane" for the Vanity Fair dinner.
(MORE: Selma Blair reveals she cried with relief at MS diagnosis after being 'not taken seriously' by doctors)
"So… @lyon_hearted went out and found patent leather and @bic_owen and he stitched it on. Hours of love put in," she wrote. "And then #tombachick made it especially magical. I burst into tears. These gifts to get me through. #subtle #chic#love. I can't thank these three enough. There are angels."
Blair has posted openly about her health struggles and successes on social media since revealing she has multiple sclerosis.
She opened up in a candid Instagram post in January about the often overlooked realities and struggles of living with multiple sclerosis, writing, "I choke with the pain of what I have lost and what I dare hope for."
"There is a truth with neurogedenerative brain disease," she captioned her post, which showed her lying in bed holding a teddy bear she said once belonged to her sister. "It is uncomfortable. It is a stadium of uncontrollable anxiety at times. Going out, being sociable holds a heavy price. My brain is on fire. I am freezing."
Blair has also shared photos of herself using her cane.
The power couple made it official while on a beach vacation, with A-Rod breaking the news on Twitter.
(MORE: J. Lo talks parenting, aging, and what's next for her and Alex Rodriguez
"She said yes," he wrote alongside a picture of a massive diamond ring on his new fiancée's extended hand.
J.Lo posted the same shot on her Instagram account for her 88 million followers to see.
(MORE: Jennifer Lopez 'so proud' of 'mini-me' daughter Emme's appearance in music video
The actress and retired New York Yankees legend began dating last winter and made their red carpet debut at the Met Gala later that year. They seem to have been inseparable ever since.
(MORE: VIDEO: Alex Rodriguez on his daughters' bond with Jennifer Lopez)
The couple opened up about their relationship in a Vanity Fair cover story back in December 2017, with Rodriguez referring to Lopez and himself as "twins."
"We're both Leos; we're both from New York; we're both Latino and about 20 other things," he added. Lopez went on to describe their deep connection. "I understand him in a way that I don't think anyone else could, and he understands me in a way that no one else could ever," she stated.
The duo is known for making public appearances together and posting sweet messages about their love. Most recently, A-Rod accompanied his girlfriend down the red carpets at this year's Academy Awards and and Grammys.
"Wedding planning" is just one more item the busy couple must add to their to-do lists. Lopez, who announced a new concert tour in February, is set to star in and executive-produce an upcoming film for HBO, while Rodriguez serves as a sports broadcaster for both ESPN and Fox.
This would be the singer's fourth marriage. She has two children from her most recent marriage to Marc Anthony.
Alex Rodriguez has two children as well with his former wife, Cynthia Scurtis.